SOCIAL MEDIA MARKETING AND MANAGEMENT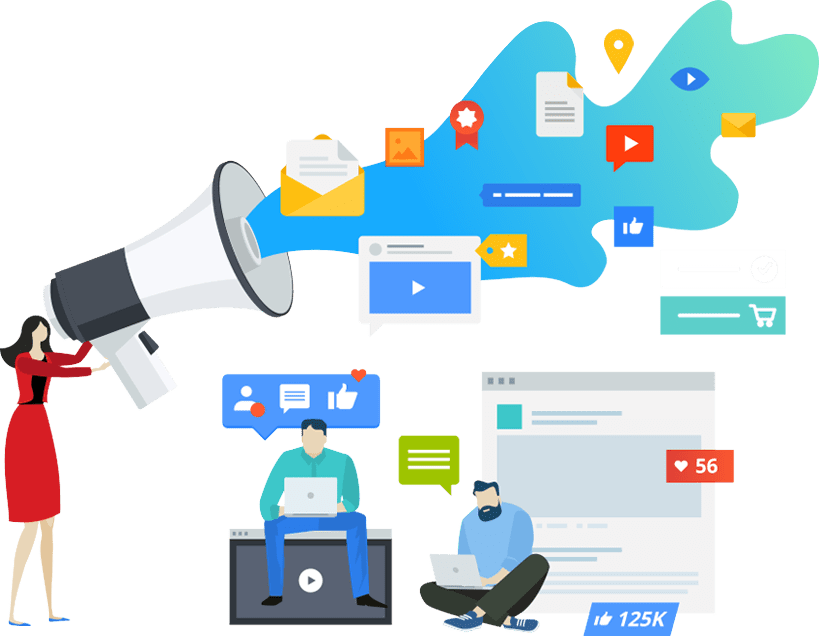 Best Social Media Marketing Tips

How to Choose the Best Social Media Platforms for Marketing
Here's a brief overview about how to use social media for marketing according to each platform's unique user base and environment. Different social media marketing sites require different approaches, so develop a unique strategy tailored for each platform.
Using Facebook for Social Media Marketing
Facebook's casual, friendly environment requires an active social media marketing strategy. Start by creating a Facebook Business Fan Page. You will want to pay careful attention to layout, as the visual component is a key aspect of the Facebook experience.
Facebook is a place people go to relax and chat with friends, so keep your tone light and friendly. And remember, organic reach on Facebook can be extremely limited, so consider a cost-effective Facebook ad strategy, which can have a big impact on your organic Facebook presence as well!

Using Google+ for Social Media Marketing

Google+ entered the scene as a Facebook competitor, but it now serves a more niche audience. It won't work for everybody, but some communities are very active on Google+. On Google+ you can upload and share photos, videos, links, and view all your +1s. Also take advantage of Google+ circles, which allow you to segment your followers into smaller groups, enabling you to share information with some followers while barring others. For example, you might try creating a "super-fan" circle, and share special discounts and exclusive offers only with that group. Note that Google has announced plans to retire Google+, so plan accordingly!

Using Pinterest for Social Media Marketing

Pinterest is one of the fastest growing social media marketing trends. Pinterest's image-centered platform is ideal for retail, but anyone can benefit from using Pinterest for social media purposes or sales-driving ads. Pinterest allows businesses to showcase their product offerings while also developing brand personality with eye-catching, unique pinboards. When developing your Pinterest strategy, remember that the social network's primary audience is female. If that's your demographic, you need a presence on Pinterest!

Using Twitter for Social Media Marketing

Twitter is the social media marketing tool that lets you broadcast your updates across the web. Follow tweeters in your industry or related fields, and you should gain a steady stream of followers in return.
Mix up your official tweets about specials, discounts, and news with fun, brand-building tweets . Be sure to retweet when a customer has something nice to say about you, and don't forget to answer people's questions when possible. Using Twitter as a social media marketing tool revolves around dialog and communication, so be sure to interact as much as possible to nurture and build your following.

Using LinkedIn for Social Media Marketing

LinkedIn is one of the more professional social media marketing sites. LinkedIn Groups is a great venue for entering into a professional dialog with people in similar industries and provides a place to share content with like-minded individuals. It's also great for posting jobs and general employee networking.
Encourage customers or clients to give your business a recommendation on your LinkedIn profile. Recommendations makes your business appear more credible and reliable for new customers. Also browse the Questions section of LinkedIn; providing answers helps you get established as a thought leader and earns trust.

Using YouTube for Social Media Marketing

YouTube is the number one place for creating and sharing video content, and it can also be an incredibly powerful social media marketing tool. Many businesses try to create video content with the aim of having their video "go viral," but in reality those chances are pretty slim. Instead, focus on creating useful, instructive "how-to" videos. These how-to videos also have the added benefit of ranking on the video search results of Google, so don't under-estimate the power of video content!

We, Westechworld, a pioneer social media management company, help you tackle your goal in this crowded online market and help you to engage your brand in all online communities. Reach wide-spanning audience through Facebook, Instagram, Twitter, LinkedIn, YouTube, and Pinterest.